Vinesh Phogat, First Indian Woman To Bag Gold In Asiad 2018
Phogat, isn't the surname we all are familiar with? After the release of Dangal, Geeta and Babita Phogat became icons of wrestling in India. They built a legacy most wrestlers dream of. Recently, the youngest sister from Phogat family, Vinesh Phogat aged 23, went ahead and bagged India's fifth gold medal in the ongoing Asian Games on Monday, August 19, 2018.
It was not easy to stand up to the legacy her elder sisters have built, but she thrived and devoted herself to wrestling. She bagged her first bronze medal in the 2013 Asian wrestling championships. But she was recognized after her performance in 2013 and 2014 commonwealth games where she bagged silver and gold respectively. Her perseverance made her the top contender for gold in Rio Olympics. But a tragic accident during her quarter final match forced her to quit the tournament. She went back on stretcher in tears. There was doubt if she could even return. But it drove her closer to her goal. She fought her pain and defeated it to return to the ring.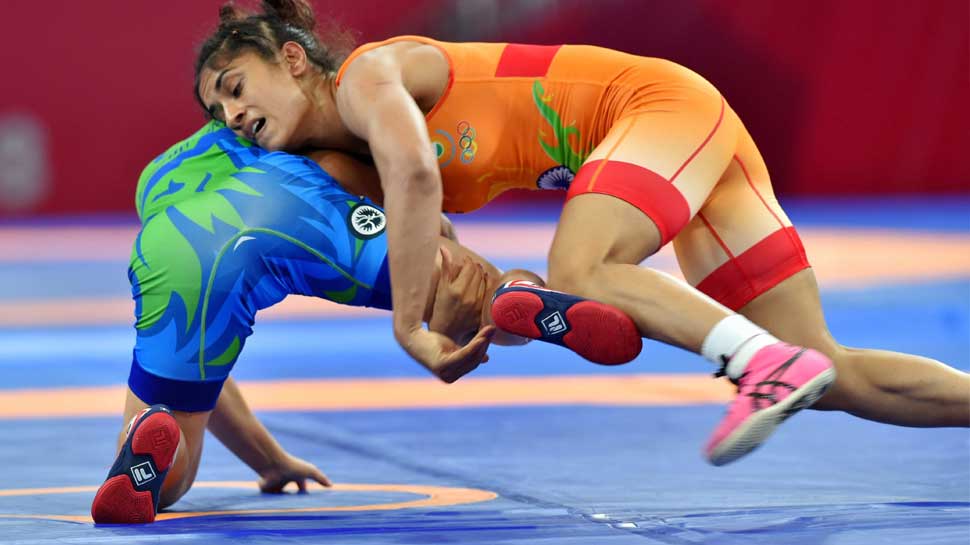 "I had targeted gold. I had 3-4 silvers at the Asia level. So I was determined to win a gold today. My body responded well," said Phogat.
After rigorous training and some tournaments she was nearly unstoppable. Then came the opportunity for her to bad a gold for India at Asia level. It was on Monday that she beat Japan's Yuki Irie in Women's Freestyle 50 kg gold medal match and became the first Indian woman to be a gold medal winner at the Asiad.
"We always knew she had the potential and the hunger. It was just a matter of time for Vinesh more than anything else," said Kuldeep, her coach.
Her performance was breathtaking. During the semi-finals, she only took 75 seconds against Daulatbike Yakshimuratova of Uzbekistan and conquered her by 10-0 due to technical superiority. Finally after defeating Yuki Irie by 6-2, she was declared victor and was awarded the gold medal.
"Men have always dominated the sport, so it feels good when girls win a medal for the country. The federation is giving us an equal opportunity. Now it is up to us to work even harder and grab the opportunities and justify their trust in us," she says.
She has proved everyone that women are no less than men when it comes to playing for India. Given, opportunity and proper guidance, they can take on any challenge and excel at it too. Her hard work is the only reason she is now being recognized by millions of people. She has proved that hard work is what makes people great, not their name. She is an inspiration to all the females who want to excel in sports and make India proud. We hope she does well in her upcoming events as well and make all of us proud.
#Asiad #Wrestling #Proud #Goldmedal #Olympics #Motivation #Inspiration #Women