Lost Both Arms At 11, Bagged Two Gold Medal For India At 19
People are only as disabled as they see themselves. 19-year-old Chandeep Singh Sudan from Jammu and Kashmir never saw himself disabled even after losing both of his arms. His life would have been going easy as a football player, athlete and skater at school, zonal and national levels until 2011 when he suffered a life threatening electric shock of 11,000 volts. It caused him fourth degree burns and his stomach was in a horrendous state. The infection worsened his condition. So both of his arms were amputated during the surgery to save his life.
"I remember once after his second amputation, my son asked me to tell the doctors to loosen the bandages on his fingers. Even then, he could feel his fingers and didn't know that his arms had been amputated," recalled his father.
At a time when majority of people would give up, Chandeep displayed great zeal and decided to put his life back on track with maximum effort. Inception wasn't so good, because these kind of sports also require upper body for proper balance while performing. Yet giving up was never a part of his plan. Only a year later he returned with skates back on. He trained everyday for 90 minutes with his able counterparts. Sooner or later, hard work pays off. In 2012, he participated in a national roller-skating event and won a bronze medal for the same. Golden book of world records and Assist world records recognized him as the fastest skater in 100 meter category.
"Initially I kept falling a lot because I didn't have my arms to keep the balance. But, after falling countless number of times, I finally managed it," said Chandeep.
Since then, there was no stopping to him. He decided to take on Taekwondo and skating. He then found a mentor who himself was a living legend, Milkha Singh. He inspired him to train by making him realize the bigger picture than just the obstacles. Chandeep went ahead and made India proud by winning gold medals in Asian Taekwondo Championship at Vietnam and International Taekwondo Championship at Nepal. He also bagged two gold medals in Kimunyong Cup Taekwondo Championship in South Korea this year.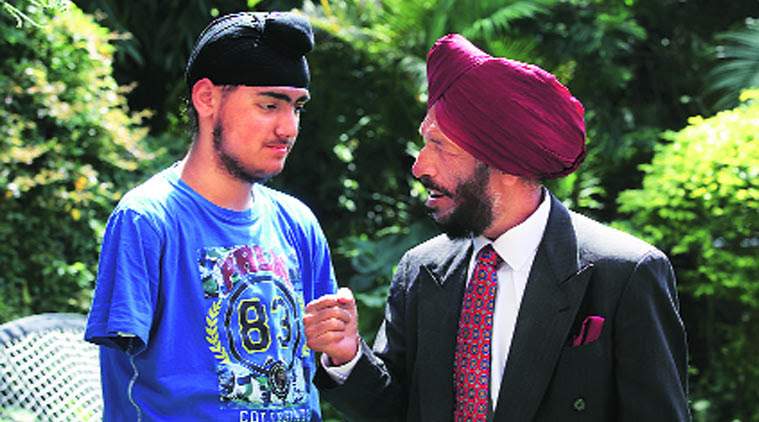 "I want to say that Chandeep is making his country proud, others should also emulate and perform similar feats, when Chandeep came to my home, I saw that he is working his laptop and mobile with feet, he doesn't have hands, I was really moved," said Milkha Singh.
His achievements are only because of his determination to see beyond what he couldn't but what he could. He now plans to take over the world championship in the upcoming years. He is an inspiration to all the youngsters who aspires to be great in any field. His life is a message to all people who are disabled in any way, that once determined nothing can stop them. He made his mentor's words come to life, "Hard work, will power and dedication. For a person with these qualities, sky is the limit".
#sports #motivation #dedication #champions #determination #worldrecord